Polls
This month we ask:

Loading ...
Trail cams can reveal how many turkeys are in your area and let you know if there is a boss tom, a bunch of jakes and hens, or one with a double beard.
They can also show other creatures that may be around.
Read more
about turkeys and trail cams here.
Got a Field Tip? Email it to us.
Memory Bank




See more photos from our readers!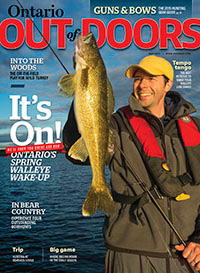 SAVE more than 55%
Subscribe online and get 10 issues for more than 55% off the newsstand price!
Subscribe Now
Advertisement
Classifieds
Advertise with us. Contact Linda Chick (416) 617-0626 or Janet Neale (705) 748-6324 ext. 229
Classifieds Ads