This issue we ask:

Loading ...
Calibre question?
The truth is if you aren't a good marksman, a magnum won't help.
And if you are a good marksman, you usually don't need a magnum.
Once you've chosen your calibre, shoot it... lots, until you are 100% confident you can produce the group size that will guarantee an ethical shot. Your game deserves it.
Got a Field Tip? Email it to us.
Memory Bank







See more photos from our readers!
Videos
Title

Runtime

5:19

Description

Unboxing the Barnett Ghost 415
Title

Runtime

10:07

Description

OOD's Alex (Moose Man) Gouthro, provides tips to i...
Title

Runtime

1:18

Description

Setting up better grouse shots with OOD's Upland c...
More Video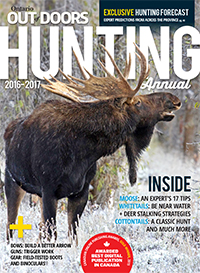 SAVE more than 55%
Subscribe online and get 10 issues for more than 55% off the newsstand price!
Subscribe Now
Advertisement
Classifieds
Advertise with us. Contact Linda Chick (416) 617-0626 or Janet Neale (705) 748-6324 ext. 229