This issue we ask:

Loading ...
Moose hunt
Pushing moose out of hiding and toward spots where your hunting party is posted can be amazingly effective.
Conditions must be right and the hunt well organized.
All it takes is some planning, knowledge of moose behaviour, and understanding of the landscape.
Got a Field Tip? Email it to us.
Memory Bank







See more photos from our readers!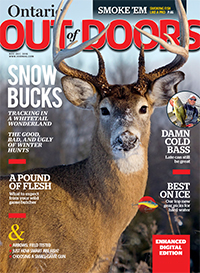 SAVE more than 55%
Subscribe online and get 10 issues for more than 55% off the newsstand price!
Subscribe Now
Advertisement
Classifieds
Advertise with us. Contact Linda Chick (416) 617-0626 or Janet Neale (705) 748-6324 ext. 229