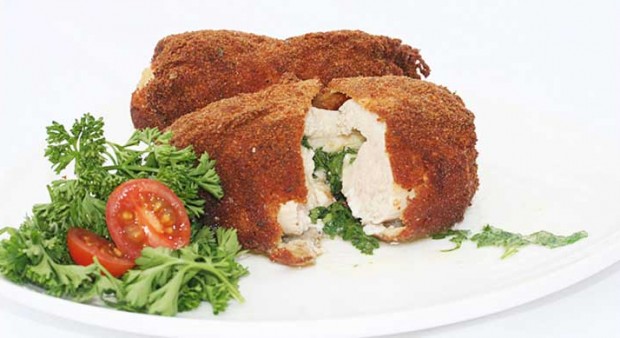 There are few wild game birds I enjoy more than turkey, and this recipe allows the use of not-so-perfect breast meat. This recipe is missing ham to make it Cordon Bleu, but has some of the same herbs, so it's a new twist on an old classic.
Ingredients (enough to make 1 roll)
1 ¼ cup vegetable oil, heated in a heavy, deep-bottomed saucepan. (You'll need enough oil to cover turkey roll, and you might need to increase oil, depending on how many rolls you are making.)
7 ounce piece of turkey breast, flattened out with a meat mallet
¼ cup butter, softened
Pinch of dried chili flakes
1 tbsp. fresh parsley, chopped
1 ¾ x 3-inch slice of havarti cheese
¼ cup all-purpose flour
1 egg, beaten
1/3 cup Italian bread crumbs
Instructions
Preheat oven to 425˚F. Mix together butter, chili, and parsley in a bowl. Place cheese on top of turkey breast, then top with butter mixture and roll up turkey breast, making sure that none of the filling escapes. Dredge the turkey roll in flour, then in egg, then in bread crumbs, back into the egg, and then into the bread crumbs once more.
When oil is hot, place turkey roll in oil and deep fry for 3 to 4 minutes, or until golden. Carefully remove from oil and place on baking sheet and place in oven for 8 to 10 minutes, or until completely cooked through.
This recipe was originally printed in the May 2014 edition of Ontario OUT of DOORS.