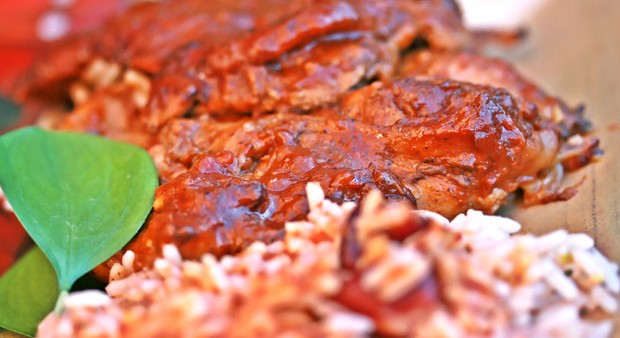 Jerk is a Jamaican specialty. It can be done with a rub or a marinade. Here's a wonderful marinade that's great with grouse or pheasant. The longer it sits in the marinade the better.
INGREDIENTS
1 tbsp. ground allspice
¼ tsp. cinnamon
¼ tsp. ground nutmeg
1 tsp. garlic powder
1 dried chipotle pepper2 bunches of green onions, roughly chopped4 limes, juiced and zested¼ cup molasses or maple syrup
½ cup olive oil
1 tsp. salt1 to 2 pounds of grouse or pheasant, chopped into pieces (breast, thighs, etc.)
INSTRUCTIONS
Place allspice, cinnamon, nutmeg, garlic powder, chipotle pepper, green onions, lime juice, lime zest, molasses, olive oil, and salt into a blender and puree until a smooth paste forms. Scrape into a medium bowl, add grouse and toss until thoroughly coated. Cover with plastic wrap or place in freezer bags and marinate in fridge for at least two hours (24 hours is better). Preheat grill and place meat on it, skin-side down. Turn after 10 minutes and cook for another 10 minutes, or until done. This is great hot, but can be enjoyed cold as well. Try it in a salad.
Check out other recipes from the Cooking section in Ontario Out of Doors magazine.
This article originally appeared in the Ontario OUT of DOORS August 2015 issue. To see more stories like this, subscribe to OOD today.